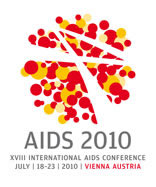 The world's largest public health conference, the XVIII International AIDS Conference (AIDS 2010), kicked off this past weekend in Vienna, Austria.  The event brings together 20,000 people from across the world to discuss the current state and the future path of the global HIV/AIDS epidemic.
There are a TON of online outlets covering AIDS 2010 but here are a few links to get you plugged in:
Send us any of your favorite AIDS 2010 links and we'll include them!